Announcements
Our Investments Continue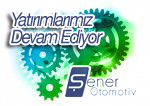 The purchasing of industrial field of 4500 m2 was made in the Hanlı region of Adapazarı as of 2014. When selecting this region, meeting the expectations of our customers more and bringing the customer satisfaction to the top level were targeted.
Five year business plan was prepared within 2014. Our investment plan exists as below within the 5 years in the frame of this plan.
•      Making the Sakarya Hanlı Factor a closed area of 2700 m2
•      Putting the factory into activity within 1,5 years.
Other Announcements